Dr. Hector Montalvo Joins Primary Care Plus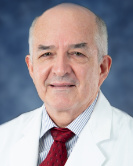 Primary Care Plus announced that Dr. Hector Montalvo joined its team in January 2021 as a physician at its Metairie clinic. Dr. Montalvo has more than 25 years of experience in patient care.
Dr. Montalvo earned a Doctor of Medicine from San Carlos University School of Medicine in Guatemala in 1986. He completed post-graduate training at the University of Alabama at Birmingham.
Read more about Dr. Montalvo here.