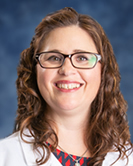 Primary Care Plus announced that Jaime Macaluso joined its team in October 2020 as a family nurse practitioner. Jaime has 10 years of experience in acute and chronic care and will provide care to patients at the Metairie clinic.
Jaime earned a Master of Science in Nursing and a Bachelor of Science in Nursing from Louisiana State University Health Sciences Center, in 2016 and 2012, respectively. She also earned a Bachelor of Science in psychology in 2008 from the University of New Orleans.
Prior to joining Primary Care Plus, Jaime served as a family nurse practitioner, evaluating, diagnosing and treating acute and chronic illnesses in primary care and urgent care settings at various health care facilities in the New Orleans area.
Read more about Jaime here.